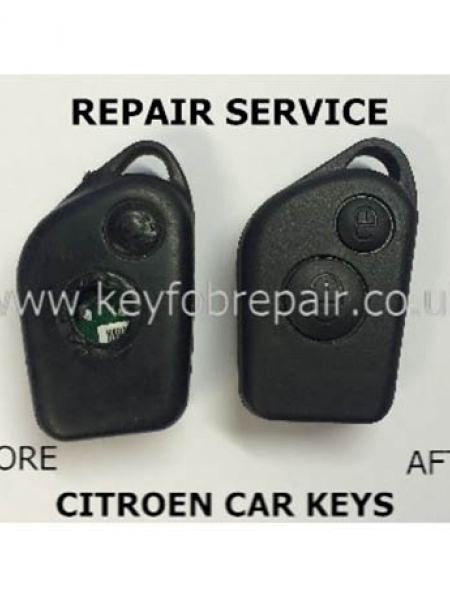 In Stock
Citroen Non Blade Type Keyfob Repair Service-Saxo Xsara Picasso Berlingo Etc
PRODUCT SKU
:
10016
---
Citroen 2 Button Keyfob Repair Service
Suitable For Citroen Saxo Picasso Xsara Keys Of The Same Type Dispalyed
Intermittent Switches?
Locking/Unlocking Failed?
Water Damaged?
Casing Perished?
WE CAN HELP
This Service Covers:
New Micro Switches
New Battery
Circuit Faults Repaired
Circuit Board Clean
New Case Fitted
Please Note This Servie Is For The Non Blade Type, For The Blade Type Please See Other Repairs
After Payment Has Been Made Please Send Your Keyfob To The Address Below. Please Make Sure Your Key Is Packed In A Padded Jiffy Bag, This Is To Prevent Any Damage, And Send By Recorded Post. Include Your Name, Address, Telephone Number And Order Number In The Package. As soon As The Repair Is Carried Out We Aim To Send Your Key Back To You The Same Day.
Please Rest Assured Your Key Is In Good Hands And The Repair Will Be Dealt With As Soon As Possible. We Are A Repair Shop And Have Been Trading For Over 70 Years. You Are Welcome To Call In Our Shop With your Key Fob If You Wish. We Do Offer A No Fix No Fee Policy. Please Note Postage Charge Is Non Refundable.
Send Keyfob To :
Keyfob Repair
5 Belfry Court
Sandy
Bedfordshire
SG19 1JR
Please note this is the delivery address for postal repairs only, for while you wait repairs please see our london shop address on our home page
Keyfob Repair
02088897593
Reviews
Be the first to review " Citroen Non Blade Type Keyfob Repair Service-Saxo Xsara Picasso Berlingo Etc "
Required fields are marked *